Finding the right candidates that match your identified target groups when you are in the ideation phase of your startup is one of the operations that can be extremely painful and subject to strong bias if not driven by a substantial level of rationality and why not objectivity.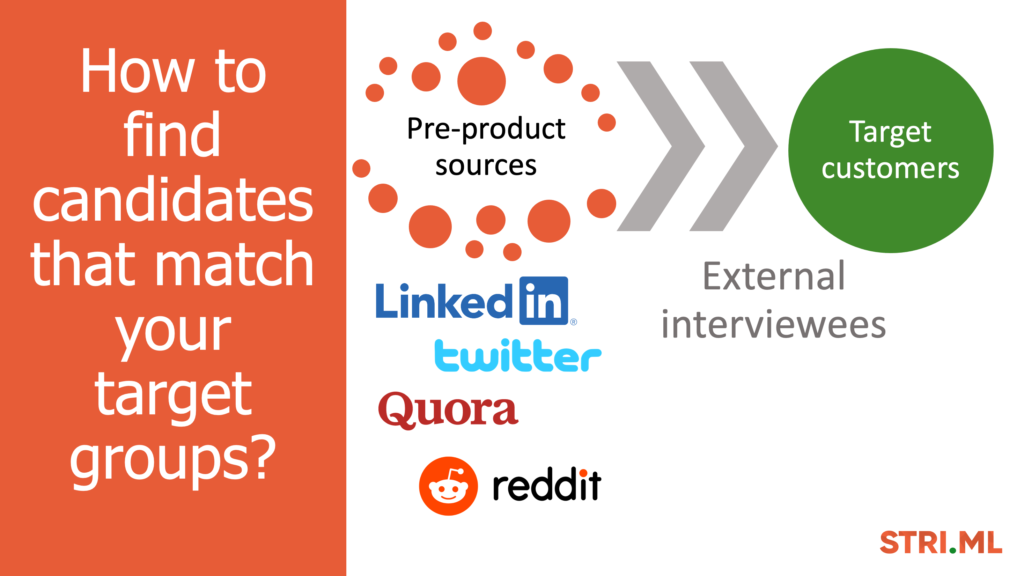 Successful startup teams understand that having the right feedback in pre-product phase is key in order to ensure a proper validation of the conceived hypothesis. After having defined and prioritized your customer segments it's time to find the right candidates. Here's a list of actions you can undertake:
Use LinkedIn to grow your network. Search by advanced criteria (e.g. location, job title, industry). Send InMail messages. It is a good idea to connect with a personalized connection request message.
Use forums and online communities (Twitter, Quora, Reddit) to connect with people in your target groups. Try to build a community as soon as possible around your validated idea. Building communities takes time, much more time than you initially estimate. Value the power of connections.
Look for the clients of your competitors, they aren't always happy. Reviews, support requests, and other types of messages shared could help you find the right interviewees.
Never stop looking for meaningful conversations with your potential customers. Spend less time at your office desk building your product. Engage more with your potential customers no matter what your product development phase is.